Master in Costume Design for Movies, Tv and Stage
The Fabric of Dreams was a 500-hour didactic and costume design workshop, led by three talents of international Costume Design: Carlo Poggioli, Gabriella Pescucci and Alessandro Lai. A path at the highest levels, between learning and production experience, with the support of great professionals, expert craftsmen and companies that make Italian creativity famous in the world. All in the amniotic fluid of the Tuscan landscape and its great figurative heritage, and in the trace of the history of Cosimo I and Eleonora da Toledo, icons of the great Florentine tradition of the 16th century.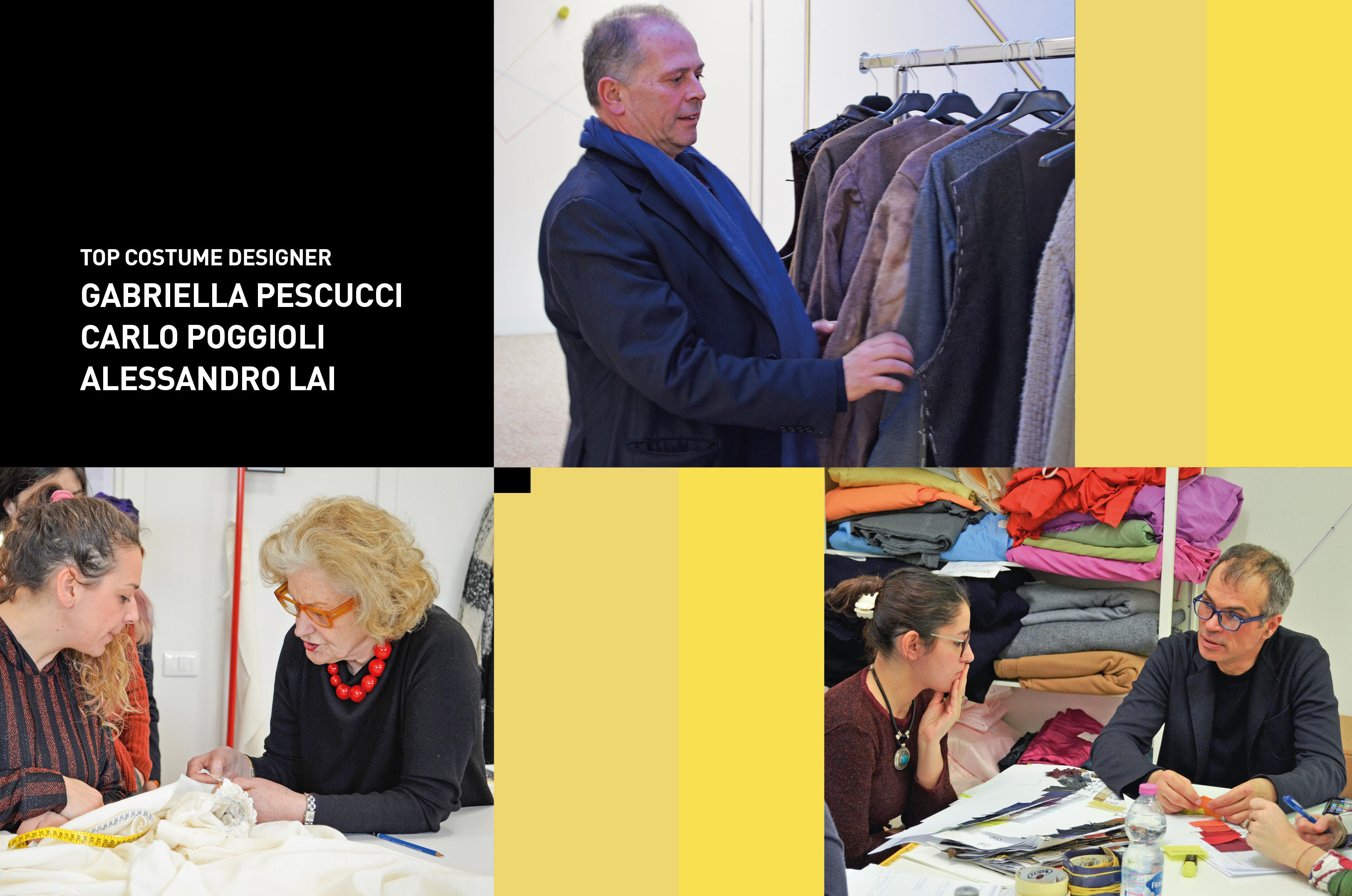 A unique experience, next to great masters, to create exceptional pieces for a new museum set-up
The Master in costumes for cinema, TV, the show The Fabric of Dreams was an educational and costume design workshop that began on February 24, 2020, interrupted shortly after due to the Covid-19 emergency, resumed on June 15 and ended on 8 August.
The 17 participants were able to experience a unique experience alongside great masters of the sector. The Oscar Prize Gabriella Pescucci, Carlo Poggioli and Alessandro Lai, the laboratory coordinator and costume designer Simonetta Leoncini and an exceptional teaching staff, composed by Luca Costigliolo (Historical Cut), Roberta Orsi Landini (History of Art and Costume), Aurora Fiorentini (History of Cinema), Rodolfo Bargelli (Hand Drawing), Alessandra Carta (Digital Drawing), Anna Lombardi (Costume Department Organization), Thessy Schoenholzer Nichols (Philological Drawing of Costume) and Roberto Tranchina (Costume and Fashion).
Result:
The participants managed to create 6 costumes for women and 4 for men of the common people, 2 splendid Renaissance skirts and a reproduction of the dress of Isabella of Aragon found in the Aragonese Arks, as well as paper and digital moodboards, sketches and drawings, samples of aged fabric and more.
Duration: 500 hours
Calendar: 24 February [stop for Covid] 15 June-8 August 2020
Registrations: by call
Venue: Digital Manufactures Cinema Prato (via Dolce de 'Mazzamuti, 1 – 59100 Prato)
Costs: for European candidates: € 4,900.00 (VAT included)
For non-EU candidates: € 7,500.00 (VAT included)
Possibility of requesting Tuscany Region vouchers to support professionals or self-employed workers residing or domiciled in Tuscany (€ 3,000.00)
Possibility of requesting Fondazione Sistema Toscana scholarships
For requesting vouchers or scholarships, contact: alta.formazione@pin.unifi.it
In the case of registration by 30 December 2019: participation fee reduced to 4,400 euros (including VAT) for European candidates and 7,000 euros for non-EU candidates
In the case of registration by participants who have already successfully attended one of the courses of Manifatture Digitali Cinema Prato, the registration fee is reduced to 3,900 euros (VAT included)
Partner:
Sensi contemporanei
MiBAC – Direzione Generale per il Cinema
Regione Toscana
Manifatture Digitali Cinema/Fondazione Sistema Toscana
ASC Associazione Nazionale Costumisti e Scenografi
Comune di Prato
Città di Prato
PIN – Polo Universitario di Prato
Museo del Tessuto di Prato
Fondazione Teatro Metastasio di Prato