The list of great international professionals who will hold an exclusive workshop at the Showrunner Lab. is growing: the producer and screenwriter Vaun Wilmott join The Walking Dead producer Sean Furst, the Executive Vice President of Production and Development of Magic Quill Productions Chad Kennedy (supervisor of the Lucifer series) and the executive producer of the American newsmagazine Extra Jeremy Spiegel, names that we announced here.
The Showrunner Lab., which will take place from the 1st of April to June 19 2022 at Manifatture Digitali Cinema Prato, is the first Italian specialization course for the Showrunner profession, the key figure in the creation and production of TV series, a role still not well defined in the Italian Country (read this news about it). Organized by Fondazione Sistema Toscana, Tuscany Film Commission, Manifatture Digitali Cinema, in collaboration with Good Girls Planet & ITTV Forum & Festival of Los Angeles and PIN – University Center of Prato, this unique and innovative laboratory is aimed at girls and boys aged 18-30, graduated, with a passion and aptitude for TV series, writing, organization, entrepreneurship: it's a great training opportunity aimed at entering the world of work.
The call for applications to participate in the Showrunner Lab. is online since January 25 2022 and will expire on March 9, 2022. To find out everything about the course, the economic benefits, how to apply and to download the documents to register, go here: Showrunner Lab. – Info and How to apply. You don't have much time left and places are limited: hurry up and sign up!
Now, let's present you new name in the workshop calendar of the course, which is added, as mentioned, to Sean Furst, Chad Kennedy and Jeremy Spiegel: the producer and screenwriter Vaun Wilmott.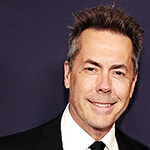 Vaun Wilmott: writer and producer for the fantasy tv series Dominion and, among others: Star Trek: Discovery, Prison Break, Sons of Anarchy and Jack Ryan.
---
Showrunner Lab. is an unprecedented and unparalleled project in the panorama of specialization courses in the Italian audiovisual professions. Hurry to sign up! Do it here: Showrunner Lab. – Info and How to apply. You have little time left!